What model are you looking for?
Small workgroup
Personal databases for single user or small workgroup.
You only need user licenses for 1C:Enterprise
For small databases (usually less than 5-10 Gb)
Comfortable work for up to 15-20 concurrent users
Enterprise
Corporate solutions for all your employees.
For databases of any size
Performance depends on your server and DBMS
All benefits of 1C:Enterprise Server
Private or Public Cloud
The most flexible and innovative model.
Subscription based cost model
Hight scalability with resources on-demand
Part of the responsibility on the cloud vendor
Small workgroup
Users can work with 1C:Enterprise infobases from various devices with various operating systems using any of the available client applications. The thick and thin client are available on Windows and Linux. The web client is a browser application compatible with all popular Internet browsers.
Users are able to work with multiply databases in the same time. 1C:Enterprise platform require only 1 user license per workstation.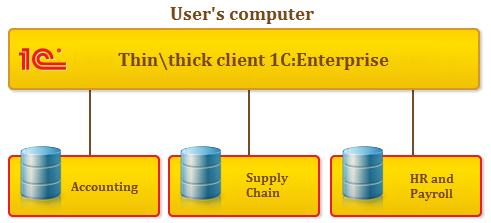 For team work 1C database can be shared in public folder or shared on local web-server. Working over web-server allows user to connect via browser to database.
Enterprise
Three-tier architecture can be build with 1C:Enterprise Server. This significantly improves the stability of the whole system and increases the allowable number of concurrent users in one database.
1C:Enterprise architecture allows you to mix any components running on different operating systems in a single 1C:Enterprise system.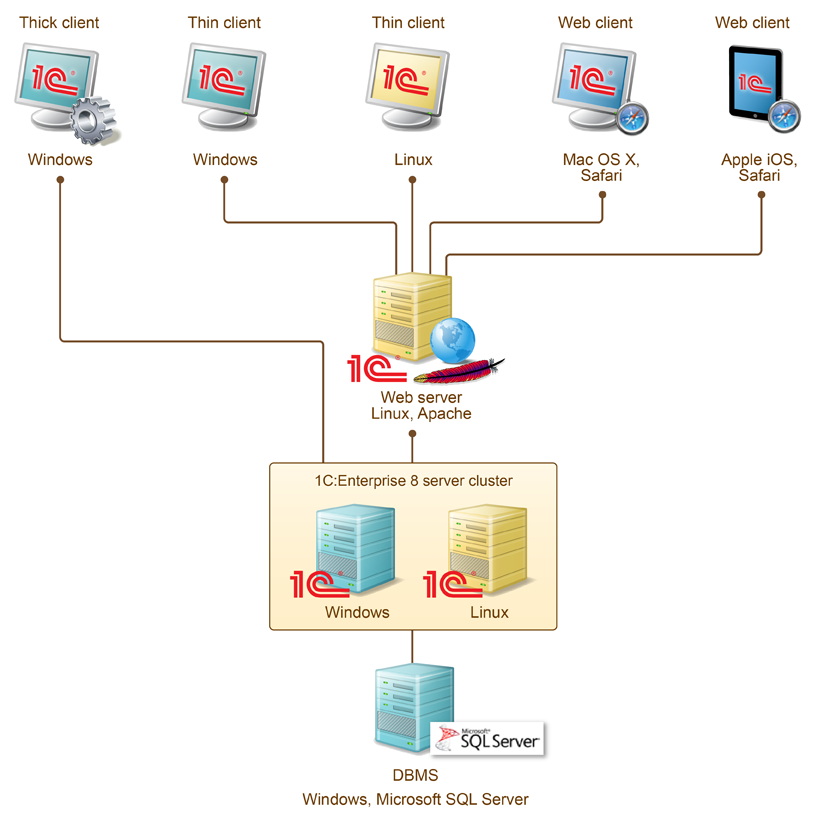 Private or Public Cloud
Private Cloud
A private cloud can be used by an organization to enable worldwide employee access to the application from any device, even without 1C:Enterprise installed at client side. This feature is useful for managers who move between the offices and need to access up-to-date subsidiary data. They can check reports from any location, such as a store or a vendor office.
For a corporation consisting of multiple companies 1C:Enterprise as a cloud platform allows to minimize IT support costs of multiple instances of the same application. For example, if each of the companies uses 1C:AccountingSuite, instead of creating multiple instances, a single multitenant instance can be used.
In this scenario each company will use its own independent data area, however, all setup processes, updates, backups and other administrative functions will be done only on one application instance.
B2B capabilities of the 1C:Enterprise private cloud provide access to the application for external customers and vendors, enabling collaborative business processes, such as checking warehouse balances for restocking or obtaining sales reports.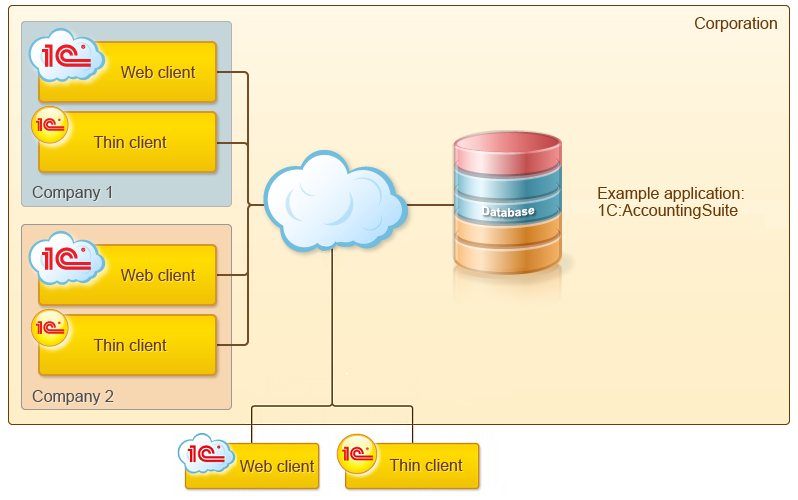 Public Cloud
The highest level of cloud scenarios is the SaaS model of application delivery. In this scenario customers don't purchase or install applications, but work with applications over the Internet and periodically pay for this service. Applications are installed and supported by a service provider on its cloud infrastructure.
The service provider usually maintains 24/7 application availability, updates applications, creates backups, and handles data security. Customers pay for the necessary amount of a service (for example, per user per month pricing), and use the application via a web browser.
Such business models eliminate customer installation, update, equipment and software costs, as all these functions are performed on the service provider side. Customers utilize applications as services.
Each 1C SaaS application works in the multitenancy mode, with customers having independent data areas for their information. Each customer using SaaS applications can have multiple users (e.g. employees, vendors) working with the applications. Each customer can work with multiple applications at the same time.
Customers using a SaaS application can see only their data, whereas on the service provider side all customers are working with the same application instance and database. This allows the SaaS vendor to perform rapid and simultaneous updates for all customers.