1C:Document Management is an electronic document and business process management solution designed to automate business processes based on your personal demands.
We recommend to use thin client for our demo applications. You can download and run it
here
. Otherwise you can use latest version of following browsers: Microsoft Internet Explorer, Mozilla Firefox, Google Chrome or Safari.
Web-client 1C:Enterprise does not work on mobile phone browsers!
KEY OPPORTUNITIES
1C:DocFlow helps us to:
control, share, collaborate and track the use of confidential documents;
run our business online from anywhere;
speed up the document processing;
see the progress and status of each business process.
CORE ADVANTAGES
good value for money;
implementation, education, support and servicing;
compliance with national standards;
embedded mail client;
mobile application;
security and access rights;
performance indicators;
accounting of labour costs;
BUSINESS PROCESS AUTOMATION
Business process is a sequence of actions for the company employees. Automation of such sequences arranges the operation and significantly speeds up the company workflow.
WORK TIME TRACKING
Manager is able to assess the most expensive activities in terms of time and money. 1C software allows us to make check-in/check-out records automatically thus the line manager can estimate the availability of employees, build different reports, analyze the information and make the proper decisions.
EFFICIENT TEAM WORK
The software provides the role based access control to the files and documents. Conflicts of the simultaneous file editing are resolved due to the file locking mechanism. Double-check system does not allow the user to make a mistake.
PERSONAL SETTINGS
Personal desktop and different access rights for each user. Individual approach to every customer. All the requirements are considered and implemented by our technical support team. 1C:DocFlow can be adopted for any industry and national standards.
1C:DocFlow eliminates the need to store dozens of spreadsheets, documents, and reports across your desk and computer memory. All data is recorded and stored in a single database.
The solution is capable of providing service to multiple companies or individuals operating in a single area of business. Should the business's scale or structure, management processes, or company workflow change, the solution can be reconfigured quickly and inexpensively to reflect these changes.
1C:DocFlow is recommended for companies with 50 workstations and more.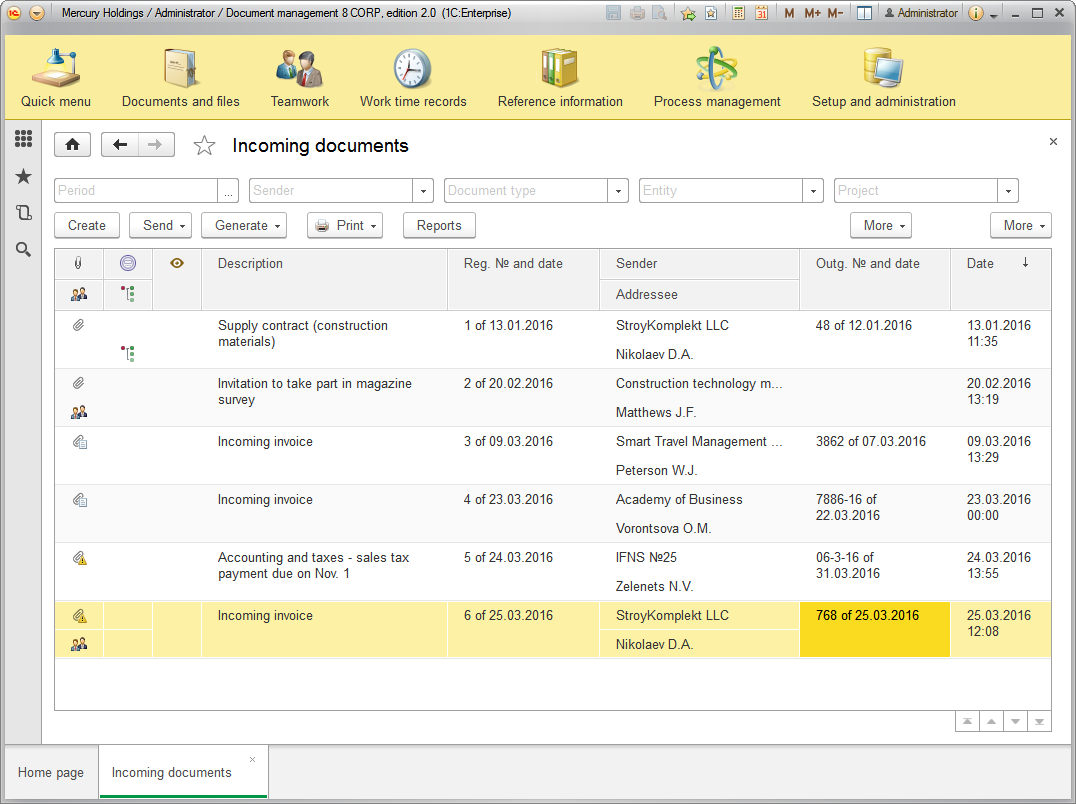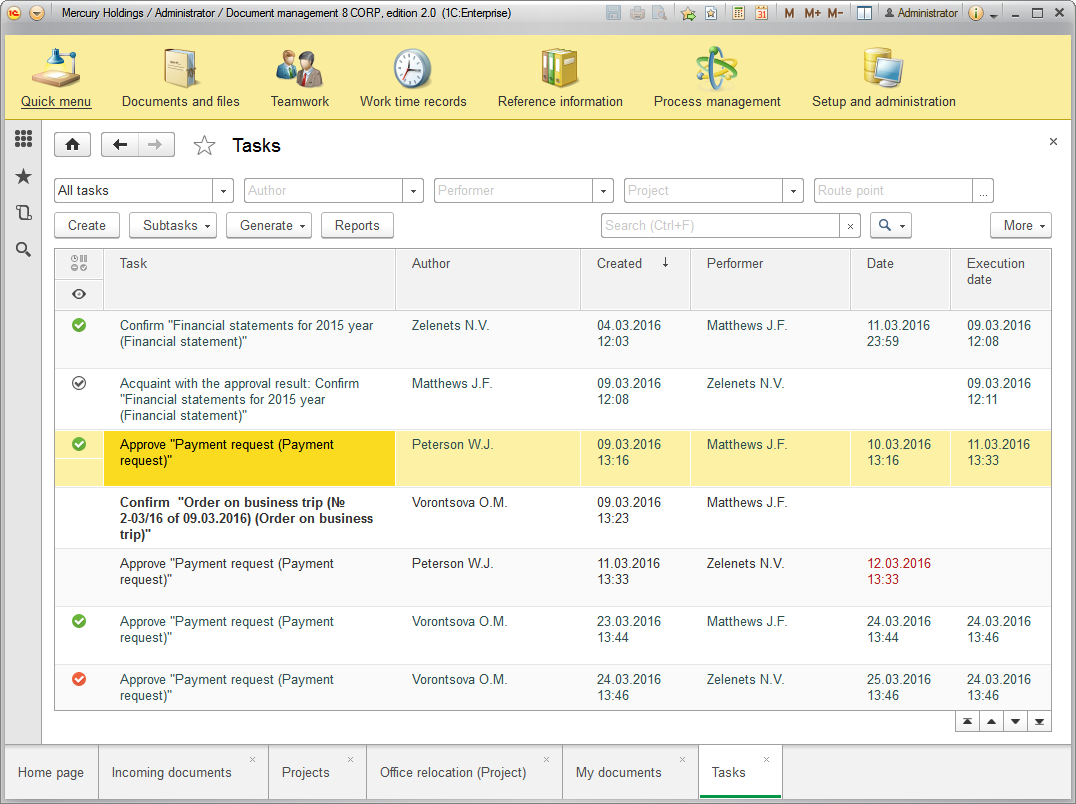 Legal notice
1C LLC is owner of 1C:DocFlow, solution is distributed "as is", and can be used as a basis for development of your own applications on 1C:Enterprise 8 platform. This program is distributed WITHOUT ANY WARRANTY and 1C Company provides support for this application thought partners. In order to use 1C:DocFlow or applications that are based of it, it is required to own or acquire valid licenses of 1C:Enterprise platform and license for the 1C:DocFlow solution.